Dakota and Faith have some sensitivities to fructose. So they have a hard time with fruits, fruit juices, some veggies, and high fructose corn syrup. It makes Faith look like she has coffee grounds in her diaper. Since almost anything store bought has high fructose corn syrup in it at some point it just becomes cheaper and better to make it homemade. Bread is one of those things and amazingly enough Dakota loves the bread more homemade. But as I (like so many other parents) just trying to get our chores done we forget that they really can help us and really enjoy it. So I thought it would be fun for them to help me make the bread. I was lucky enough to find a bread machine at a garage sale the other week. I already had one, but wasn't thrilled with it to pieces and knew if I was going to take on this new task of making something we eat all the time from scratch I knew I MUST love the bread machine. Some would ask why do you need a bread machine. I have four children two of which are special needs and that should be explanation enough. So here we are making bread.
Let's Get Started
Say Cheese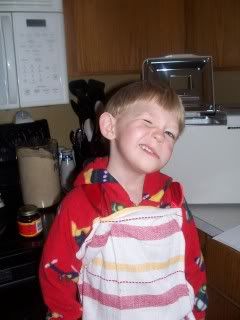 (Can someone tell me if their almost 4 year old smiles like this?)
Dakota's Turn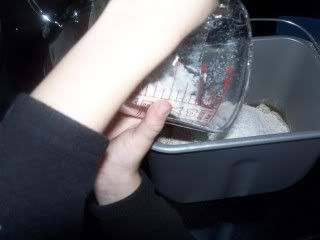 Eli's Turn (with mommy's help of course)
Yummy It's Done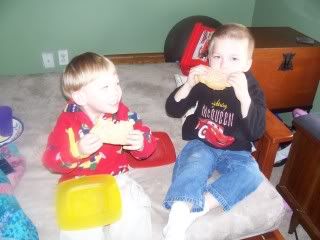 It seems to me that our growth with God is like making bread. God adds things to our lives to make us grow and in the end we get to enjoy a fuller life with Him.